It seems I have gotten nominated for an unpopular opinions tag (like I don't share my unpopular opinions on the internet enough). I'm just kidding! I haven't done a tag in a while but this sounds intriguing. Oh, and thanks to the lovely
Opal
for tagging me!
Time for books to get smashed. Heads will roll.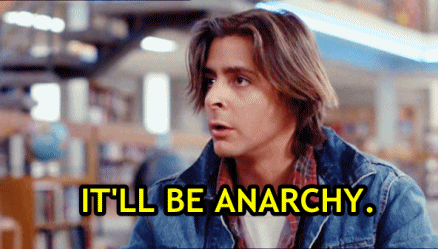 A popular book/series you didn't like
:
There wasn't enough world-building. How did the world get to where it is? I know they explained some of it in Allegiant, but not in a way that was believable. It's like, "The world became
this
as a result of
this
."
But why?
I didn't like Tris or Four, and I couldn't relate to them or feel
anything
towards them, either. I like my protagonists driving the plot, but Tris is not usually a woman of action. Roth could have made anyone the main character and gotten away with it.
I didn't
dislike
it, really. It was okay. I didn't like it as much as so many other people did. Oops, now I feel like I cheated the question.
A popular author you can't seem to get into:
...no one! Thank goodness.
A love triangle where the protagonist ended up with the person you didn't want them to be with:
I'm not going to spoil anything. Promise.
The whole
Infernal Devices
series is confusing in that the main character, Tessa, has an on-and-off thing with both Will and Jem. Like, she's with Jem one day, Will the next. Then Jem again, and oh,
look at that, it's Will
.
So it depends on how people define "ended up with", because the person she's with at the end of the book isn't quite what I'd define as "ended up with" for reasons I can't reveal. But I like her with Jem because Jem is lovely and we need more Jems in the world.
A popular genre you hardly read:

Paranormal and historical fiction. I read mostly sci-fi, fantasy, crime and contemporary.


A popular/beloved character you dislike:
Snape
from
Harry Potter
,
Gus
from
The Fault in Our Stars
,
Teresa
in
The Maze Runner
A popular series you have no interest in reading:
I delved into the world of
The Mortal Instruments
series by starting with
The Infernal Devices
. After reading that series, I have no desire to read the original.
Actually, I feel like ID could stand by itself. I heard there are few links between the two, and frankly I have no idea what MI's about and don't particularly want to know.
A show/movie adaptation you liked better than the book:
This is going to ruffle so many heads...oh help.
The movies are actually like my childhood fantasies on a TV screen. I bought the extended editions, and I can't imagine watching the cut version of LotR anymore.
The books? Well, I'm reading them right now, and there are scenes that are tough to get through. Why is the Treebeard scene with Merry and Pippin so long?
Right now I'm stalling, but hopefully I get to see some action soon.
A popular book/series everyone hates but you love
:
Apparently, people didn't like the
Throne of Glass
series? If you don't like the first book, I get it. I can't imagine hating the whole series, though.
The second and third books of the series (
Crown of Midnight
and
Heir of Fire
) I could not put down. Seriously, I walked from place to place with my eyes glued to the open pages like it was the gateway to heaven (it led to a lot of bumping into furniture).
If you didn't like the first book, don't worry, I didn't particularly like it either. But my, does it get better. You'll find no more awkward phrases like
"Oh, how she adored candy!"
. Yeah, that was actually a line. *cringe*
Also,
We Were Liars
was delicious. And nutritious.
I hear criticisms left and right about the writing style, which
looks a lot
like
this. + a lot of hyperboles.
But hey, it didn't bother me at all! Language and formatting are diverse things, and I have no problem with the way writers express themselves. It's cool if you didn't like it, though.
A popular trope you're tired of reading:
Mentally ill characters being 'saved' by a romantic interest
: the support of other people helps you through many challenges in life. What I see a lot in books is the opposite: a character that is depressed or has anxiety, when suddenly an attractive love interest comes along and sweeps them off their feet!
They are miraculously no longer suffering from a mental illness because they are in love. IT'S THAT EASY...according to many books.

Girls with ridiculously older men (try 1000): it doesn't matter if he's porcelin perfection, he is probably way more mature than you and has the brain of a very, VERY old man.

Boys being stalkers/abusive to girls...and it being perceived as 'romantic': I don't think I need to explain this one.


A popular style of cover you can't stand:
*ahem* Movie covers. *shudders*

Who do I tag?
I choose...you!
(Pokemon reference)

Seriously, whoever you are, go do it if you want to!
Did you agree with any of my unpopular opinions?